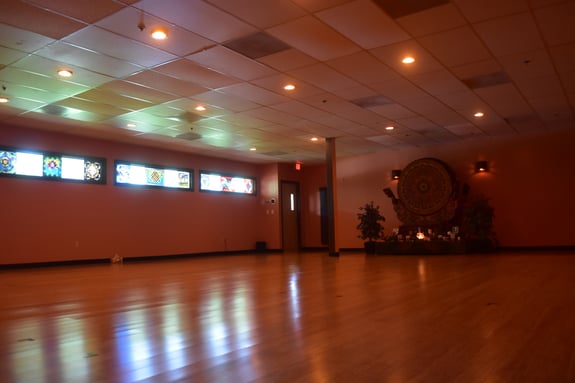 Yoga Teaching
Apprenticeship Program
What is the Teaching Apprenticeship Program?
This apprenticeship program aims to guarantee that you have mastered the skills and mindset necessary to teach yoga with confidence, lead your students with clarity, and show up in an authentic representation of the yogic tradition.

Apprenticeships are a combination of classroom training, reading of yogic texts, group-led explorations in teaching and critique, hands-on asana assisting, critical thinking, and the development of intellectual skills through animated discussion.
*Please note: this is not a 200-hour Yoga Alliance certification program.


Watch what Zoe Greiff, a former apprentice, says about the program.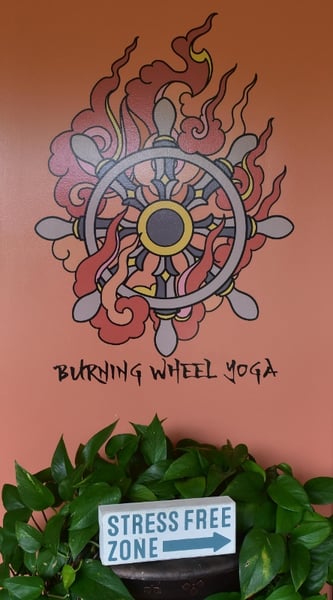 Who is the Teaching Apprenticeship Program for?
*Prior teaching experience or certification is not required to apply or participate in this program.

Applicants must have a current and consistent personal yoga practice and an interest in sharing their passion and dedication with others. Yoga seeks to liberate all beings from suffering. Our apprentices embody this ideal. We're looking for applicants with curious minds, open hearts, and magnetic personalities.
Program Dates
6-month duration: Sunday, September 24th. 2023 - Sunday, March 31st, 2024
20 Sundays from 2:00 - 4:00 pm (no class on Nov. 26th, Dec. 24th & Dec. 31st)
One weekend per month:

Saturday 12:00 - 6:00 pm
Sunday 12:00 - 6:00 pm
Includes 60-minute in-studio class
TOUCH
Jordan Lashley
Jordan Lashley
At the age of 25, Jordan stepped into his first yoga class, and life was never the same again. In his book, There Is No Me; he shares the compelling story of his development as a yoga practitioner, teacher, and man driven by the deeper questions of life.
TOUCH
Monique Allen
Monique Allen
Monique was introduced to yoga in the mid-1970s by her mother when she began practicing to navigate the challenges of single parenting. Knowing her children were suffering from familial trauma; she intuited that they, too, would benefit from simple meditation and movement practices. For Monique, this began a lifetime of dabbling in the practice of yoga.
What Makes Our Program Different?
Typical yoga teacher training programs that are 200-500 hours include a revenue model that focuses on producing a large number of teachers but often fails to bring out the heart and soul potential of the teacher within.
The ancient practice of yoga took years to unfold through study and apprenticeship to a guru. A random bucket of hours seems a little thin in the face of the richness yoga practice has to offer us as teachers and students. Join a yogic community led by heartful and well-studied teachers.
Benefits of the Apprenticeship Program
Gain Practical On-Hands Teaching Experience
With our program, you won't just be learning theory and concepts - you'll have the chance to put your knowledge into action. Our practical teaching experiences allow you to step into the classroom and gain hands-on experience in a real studio environment.
Small Class Sizes
Get personalized attention and guidance with our small teacher apprenticeship class sizes, limited to just 6 apprentices.
With such a small group, you'll have ample opportunities to engage with your instructors, ask questions, and receive individualized feedback. This unique learning environment ensures you'll receive the focused attention needed to excel in your apprenticeship program.
One-on-One Development Sessions
The Apprenticeship Program includes 2 one-on-one development sessions. Our intimate and tailored approach to teacher apprenticeship ensures that you receive individualized attention, allowing you to maximize your growth and development.
With these exclusive sessions, you'll have the opportunity to discuss your specific goals, address any challenges you may be facing, and receive customized feedback to help you excel in your teaching career.
Expand Your Yoga Skills with Master Classes
While not mandatory, as a Burning Wheel Yoga School student, you have the opportunity to participate in any or all of our Master Classes as an additional benefit.
Expand your yoga practice, deepen your knowledge, and immerse yourself in the transformative power of these advanced sessions. With no additional cost, you'll have the freedom to participate in any or all of our Master Classes, allowing you to truly elevate your yoga journey.
Guest Teacher Presentations
In order to prioritize community and collaboration, we invite like-minded guests who bring unique teaching approaches and introduce you to a wide range of yoga practices, each with its own distinct flavor (rasa).
Gain Access to a Thriving Yoga Community
Being human can sometimes feel isolating, but by becoming a part of the vibrant community at Burning Wheel Yoga School (otherwise known as Burning Wheelies), you have the opportunity to connect with others who share your curiosity about life's next steps.
Surround yourself with fellow seekers who are curious about what lies ahead in this existence, and find solace in knowing that you are not alone. Our community is dedicated to offering individuals encouragement, inclusivity, and enjoyable experiences.
Pay Once, Attend as Many Times as Needed
Burning Wheel's Teaching Apprenticeship program takes a different approach. In this program, you have the freedom to continue until you feel fully prepared to graduate.
Unlike traditional teaching training programs that adhere to a set number of hours, our innovative all-inclusive structure embraces and accommodates all learning styles.
Take the time you need to truly absorb the knowledge and skills—whether it takes you 6 months or 2 years.
Experience the freedom to learn in a way that suits you best and achieve mastery in teaching with Burning Wheel.
Convenient & Flexible Payment Options
We understand that embarking on a teaching apprenticeship program is a significant investment.
Our multiple payment options allow you to choose the method that best suits your financial situation—either paying in one lump sum or breaking it down into monthly installments.
Early Bird Pricing
Deposit of $950 paid by August 30th, 2023 - subsequent payment of $950 due on the 30th of the month.

$950/mo
Regular Pricing
Deposit of $1,000 paid by September 22nd, 2023 - subsequent payment of $1,000 due on the 30th of the month.
$1000/mo