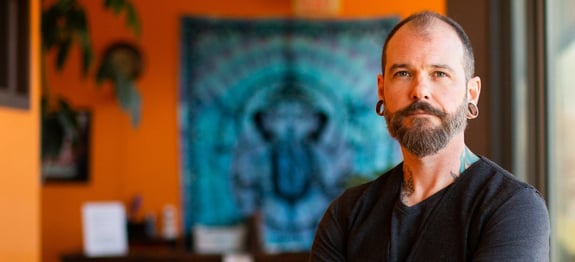 Jordan Lashley - Custom Stained Glass
Co-Owner & Lead Instructor - 8 Limb Power Yoga, Master Class
Meet Jordan Lashley
Dynamic, Philosophical, Spiritual
Jordan's artistic journey began in the 3rd grade when a teacher noticed his natural talent. It was suggested that his parents enroll him in private art lessons to hone his skills. His journey started with drawing and painting, then moved into explorations in ceramics, sculpture, photography, and more. By high school, he was winning awards for his pieces.
His focus shifted to music after high school, and in his 20s, he began working as an artisan metal worker. He learned to handcraft trumpets and trombones. It was a natural pairing of his love for art and music. By the time Jordan turned 30, his focus had switched to yoga, and his artistic expression took a turn.
This new adventure became a unique interpretation of his artistic talents. Jordan became obsessed with developing the perfect sequence, paired with exhilarating playlists, delivered in the context of yoga philosophy in an inspired setting. Burning Wheel Yoga School is a direct expression of this artistic vision.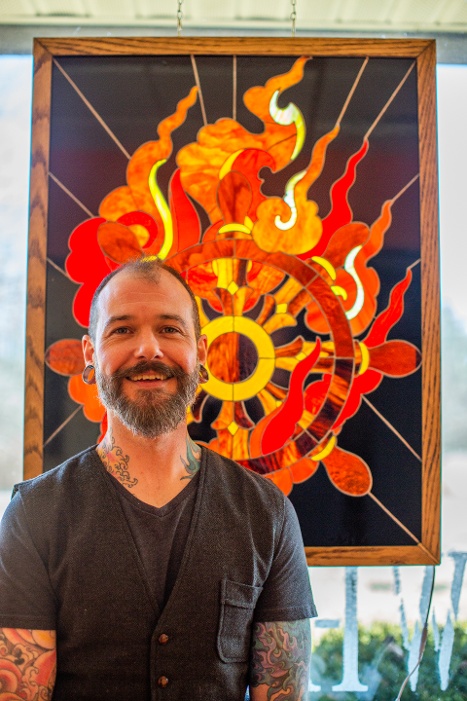 Jordan's Creative Journey
Continuing on his artist journey, Jordan picked up a pen during the COVID-19 pandemic and, in longhand, wrote his yogic memoir
"There Is No Me." He spent several hours a day writing for months to complete it. Once published and on sale, he was on the quest for what to do next to channel his creative energy.
Missing the work of making instruments and his experience in visual art, he decided to try making a stained glass window. One became two, two became three, and before he knew it, he was filling the windows in the yoga practice room.
His designs are based on sacred geometry, symbology, and nature. The play of color and light is mesmerizing as it changes with each season, time of day, or angle of viewing.
His work became so loved and cherished by his students that he was being asked, "What are you making next?" and "Can I hire you to make a piece for my mom?" His pieces combine aspects of drawing, painting, sculpture, and photography. His commissioned stained glass art business was born.
How to Purchase
a Stained Glass Piece Currently for Sale
Please complete the form and indicate the specific stained glass artwork you wish to buy. Jordan will respond promptly with guidance on how to proceed with your purchase!
Are You Interested in a Custom Stained Glass Piece?
Are you seeking a unique stained glass creation for your home or business? These one-of-a-kind artworks also serve as extraordinary and unforgettable presents for significant events.
Complete the form, share your vision, and witness Jordan bring it to life!