About Us
Burning Wheel Yoga School is a Community of Independent, Authentic & Curious People
Our community is a collective of individuals dedicated to the age-old principles of yoga. Each one of us is on a distinct path toward achieving satisfaction. A group of like-minded explorers cultivates a society that is receptive and inquisitive. Through love and accountability, we are enabled to enhance our individual wellness while actively contributing to the overall health of our society. Our collective cherishes the enigma and enchantment of diversity and its implication for freedom.
Jordan Lashley
Angela Lashley
Jordan Lashley
Co-Owner & Lead Instructor
8 Limb Power Yoga, Master Class - Dynamic, Philosophical, Spiritual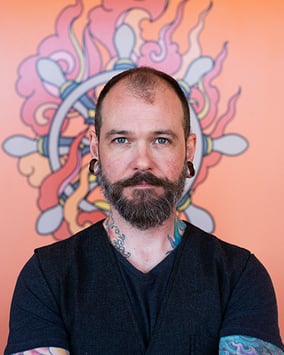 At the age of 25, Jordan stepped into his first yoga class, and life was never the same again. In his book, There Is No Me; he shares the compelling story of his development as a yoga practitioner, teacher, and man driven by the deeper questions of life.
Jordan is a Yoga Instructor with over 18 years of experience studying, teaching, and sharing this beautiful practice with students of all levels. He completed his 200-hour RYT training in 2009 at the Baptiste Yoga Studio in Cambridge, MA, and has also completed comprehensive training in Jivamukti Yoga with Sharon Gannon and David Life, Yin Yoga with Josh Summers, and a 300hr yoga philosophy certification from Embodied Philosophy.
Jordan's physical and spiritual practice has been shaped and cultivated with over 500 additional hours of training with many well-loved teachers and mentors. Jordan is also a dedicated mentor to many yoga students and newer teachers as they begin their own teaching journeys.
Jordan believes that "Yoga is about balance, in every possible way. Strength, flexibility, balancing on one foot, balancing your emotional state, mental perspective, and life... we are at our best when we achieve as much balance as possible."
For nearly two decades, Jordan has been dedicated to the pursuit of truth as seen through the lens of yoga philosophy. As part of that journey, he realized that he needed to build a community where fellow seekers could practice asana while exploring the deeper nature of what it means to be a good and fulfilled human. In his classes, you will work hard physically, challenge your paradigm of the world, and connect to something bigger than yourself.
Jordan is the co-owner of Burning Wheel Yoga School with his wife, Angela Lashley. His students experience a rigorous workout through his yoga sequences set to playlists that highlight his years as a DJ. The surprise is his gift to read the room, know what you need, and share philosophical and spiritual teachings at just the right moment of receptivity. Jordan teaches meditation, breath control, mantra, philosophy, and a HOT, dynamic, powerful flow in each class.
Jordan makes pancakes for his daughter Penelopi every Saturday morning and loves to ride his motorcycle whenever New England weather is in cooperation! When he's not teaching, Jordan is refining his talents as a stained glass artist. Each piece is one of a kind and meaningful. View Jordan's stained glass work.
Watch What Jordan Has to Say About His Classes
Angela Lashley
Co-Owner, and Massage Therapist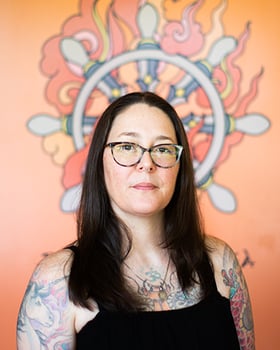 Angela's passion is in supporting individuals and families as they manage difficulties through all stages of life. As a certified Death Doula and End of Life Caregiver, she offers an essential form of healing and support in moving through the dying process and the grief that follows.
Angela is also a Licensed Massage Therapist and Reiki Master. View Angela's bodywork services here.
Angela was first introduced to yoga as a teen in the 90s, and in 2018, she completed the Life of a Yogi training with Sri Dharma Mittra in NYC. Over time, Angela's interest in the physical nature of yoga postures became secondary to her desire to support individuals with the struggles of inhabiting a body that experiences pain and injury. Her intuitive nature, personal experience with chronic pain and injury, and many years of practical experience in different modalities of bodywork allow her to craft effective therapeutic sessions addressing the specific needs of each of her clients.
Angela is the co-owner of Burning Wheel Yoga School with her husband, Jordan Lashley, and mother to Penelopi Lashley. She likes to spend her free time working on crochet projects and playing Dungeons and Dragons.
Learn more about Angela's bodywork services and book a massage or Reiki appointment here.
State-of-the-Art Health & Safety Practices
Burning Wheel Yoga goes beyond the usual daily cleaning routine by implementing advanced UV-C technology in our yoga practice area and massage therapy room. We utilize an independent UVC device that saturates the massage therapy room with potent UV-C light to thoroughly disinfect all surfaces post every session, supplementing our regular cleaning process.
UV Clean Air -
Advanced Filtration System
Our yoga studio is equipped with the Air Knight air sanitation system, a tool commonly found in biotech laboratories, medical facilities, and educational institutions, designed to sanitize the air, making it inhospitable for bacteria and viruses while keeping it safe for people and pets.
Check out the video for more insights and specifics about our UV-C devices. We've been enthusiastic and trouble-free in using it since July 2020.
Sunlight Inside -
LED Lighting System
Discover the ideal fusion of nature and technology with our Sunlight Inside LED Lighting System. These ceiling lights offer a day-to-day UV spectrum that mimics natural sunlight, fostering an environment that promotes your health as you stimulate your mind.
Through the evenly distributed, organic light that replicates the outdoor ambiance, your teaching spaces evolve into areas that enhance overall health, focus, and well-being.
Small Class Sizes
At Burning Wheel Yoga School, we intentionally keep our class sizes modest (around 20 students) to provide enough personal space and comfort during yoga sessions. With a limited number of students in each class, our committed and proficient instructors can pay more attention to your individual needs, assisting you to enhance your abilities and progress in your yoga journey.
Every mat has a designated space on the floor, offering everyone ample room to stretch without coming into contact with others or the walls. We encourage students to book classes online to secure their spot in their preferred class. Please note we cannot ensure a place for walk-in students.
Take a look at our class schedule and book a class today!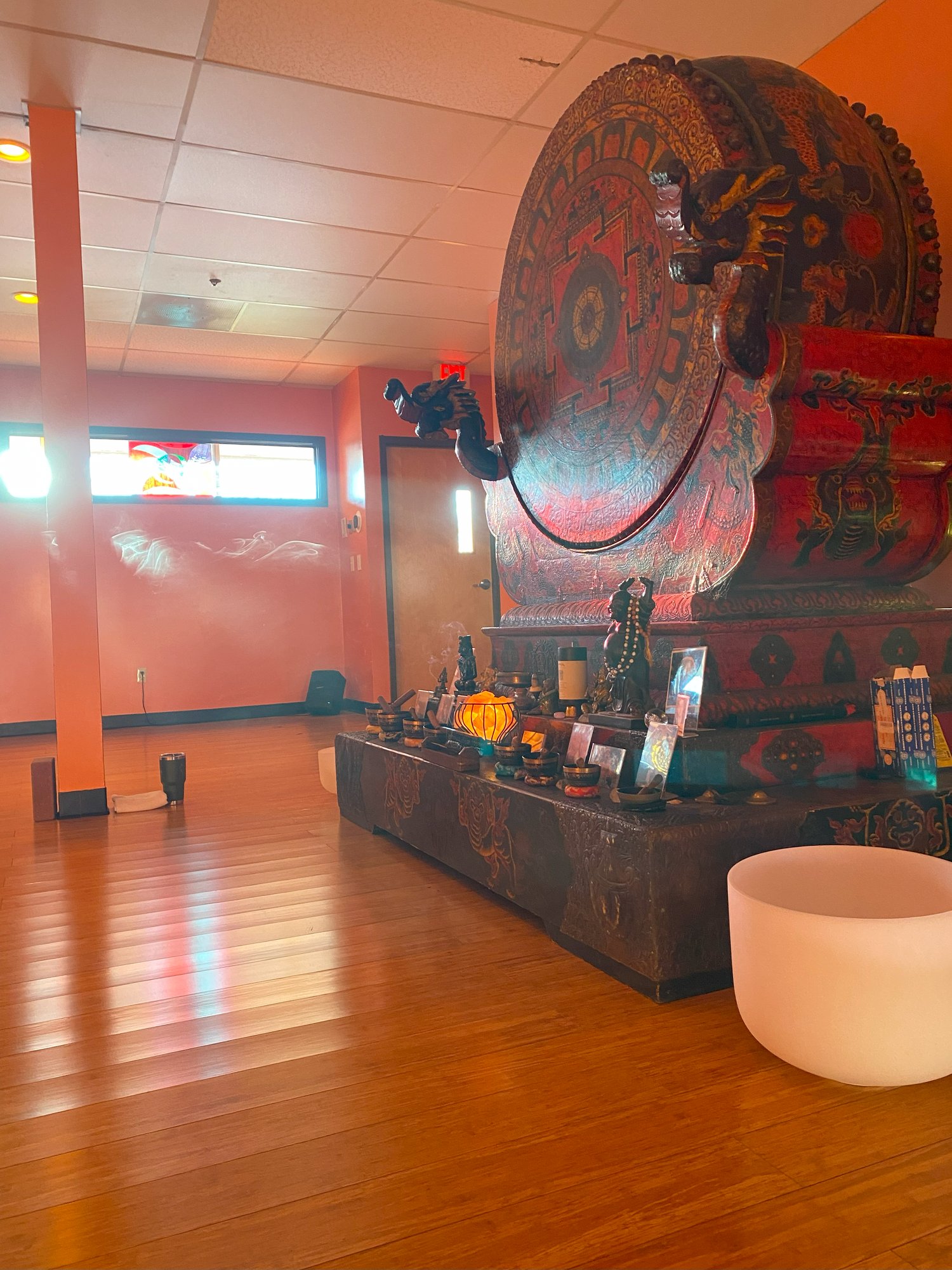 Infrared Heating Panels
Add text and a video when you move to the new building
Pranayama Tutorial

Jordan Lashley
Mantra Tutorial
Jordan Lashley
Chaturanga Dandasana
Jordan Lashley
Bakasana Crow Pose
Weslie Sellinger
Sīrsāsana Headstand
Jordan Lashley
Adho Mukha Vrksasana Handstand
Annie Bugeau
8-Limb Power Yoga Class
Jordan Lashley
Master Class
Jordan Lashley
Inferno Pilates
Weslie Sellinger
Book a Class with Burning Wheel Yoga School
Take a look at our class schedule and sign up today!