Angela Lashley
Co-Owner, Licensed Massage Therapist, Reiki Master & Death Doula
Meet Angela Lashley
Angela is a Licensed Massage Therapist and Reiki Master. She has centered her career around supporting other people as they manage difficulties through all stages of life. As a certified End of Life Doula, she offers an essential form of healing and support in planning for death and moving through the dying process. As a bodyworker, she provides her clients with an oasis of relief from stress and pain. Angela has been in practice in Massachusetts since 2007 and currently volunteers for Brookhaven Hospice.
Angela was first introduced to yoga as a teen in the 90s, and in 2018, she completed the Life of a Yogi training with Sri Dharma Mittra in NYC. Over time, Angela's interest in the physical nature of yoga postures became secondary to her desire to support individuals with the struggles of inhabiting a body that experiences pain and injury. Her intuitive nature, personal experience with chronic pain and injury, and many years of practical experience in different modalities of bodywork allow her to craft effective therapeutic sessions addressing the specific needs of each of her clients.
Angela is the co-owner of Burning Wheel Yoga School with her husband, Jordan Lashley, and mother to Penelopi Lashley. She likes to spend her free time working on crochet projects and playing Dungeons and Dragons.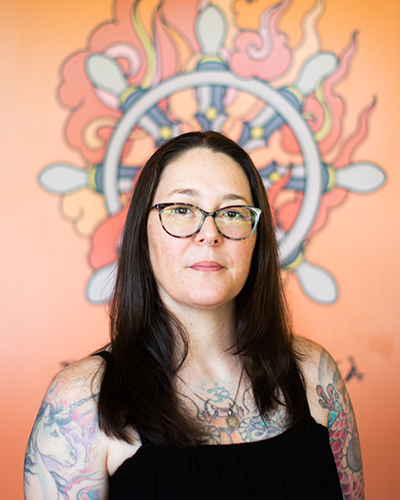 Angela's Bodywork Services
Angela practices a style of integrated bodywork, combining her many years of experience in classic Swedish and Deep Tissue massage therapy with myofascial release techniques and subtle energy work.

Specializing in chronic pain management and deep relaxation, Angela's individually crafted massage and bodywork sessions will give you a sense of lightness and clarity.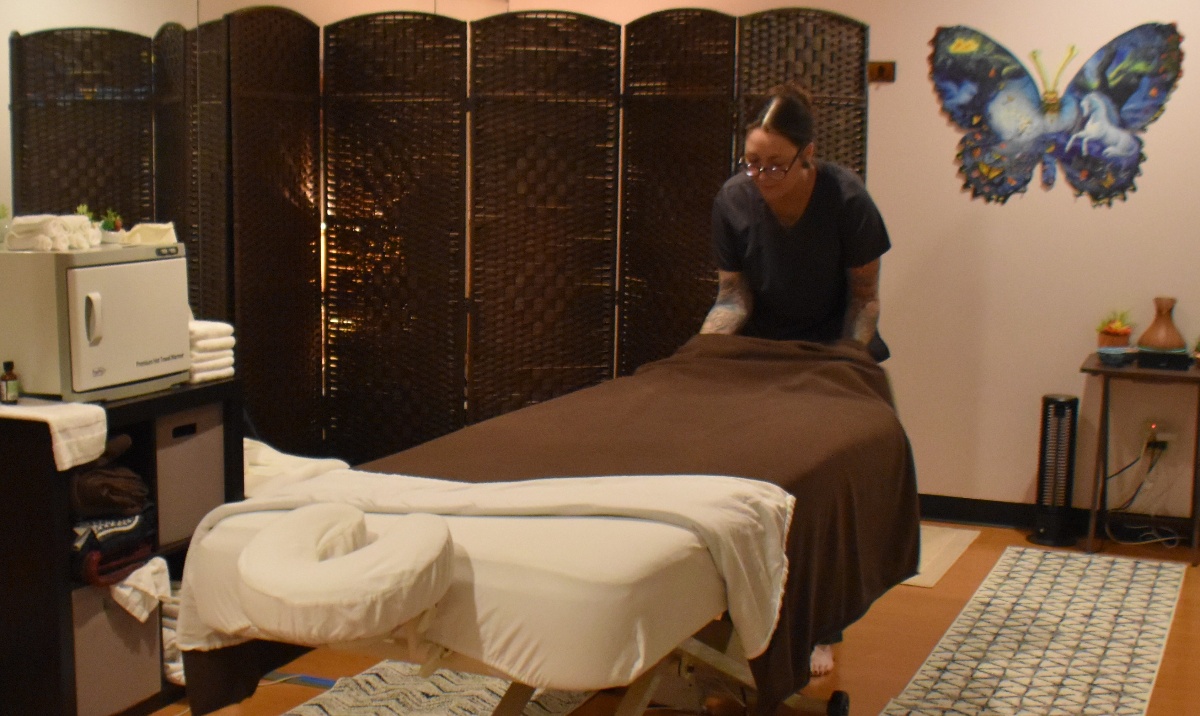 Massage Therapy Pricing
90 Mins - $160
75 Mins - $140
60 Mins - $120
45 Mins - $95
30 Mins - $80
Reiki Only Pricing
60 Mins - $80
30 Mins - $50


Sessions are by appointment only.

Please fill out the contact form, and Angela will get back to you with appointment availability.
Appointments are generally available T/W/Th between 11-3, Friday 2-7, and Saturday 11-2.


Give the Gift of Relaxation & Healing
Treat your loved ones to a lighter body and a clearer mind with massage therapy and Reiki healing gift certificates.
What Angela's Clients Have to Say
"Angela is a skillful, responsive, and intuitive massage wizard. She creates a peaceful and relaxing environment that allows me to reap the full benefits of her healing hands."
"Angela is an extraordinary massage therapist, always professional and knowledgeable in her techniques. She is a master at untangling my knots and relieving muscular tension. I walk out of there feeling SO MUCH better than when I came in (both mentally and physically). I am immensely grateful to be a client of Angela's."
"I am a nurse, and Angela has been caring for me consistently for about 3 years. I have many physical issues she helps me manage-As well as helping to keep me together, mind, body, and spirit through the pandemic. I used to think of massage as a treat to myself. Angela has shown me that it is a treat but also really is self-care and maintenance. She has a therapeutic and intuitive touch that, while collaborating with what my body needs- helps me being able to relax and heal. She has been a helpful healing partner, and I appreciate her help in my wellness journey."
"I have gone to many massage therapists over the past twenty years, but Angela has been my go-to therapist for most of that time. She has a wonderful blend of relaxation and therapeutic techniques with a subtle dash of reiki thrown in for an incomparable experience. My body gets very cranky if my regular sessions are interrupted due to scheduling conflicts, or even my own vacations away. Angela is a critical part of maintaining my overall physical and mental well-being."